Meet Cohort One of Modular Fellows
28 individuals and teams were selected for the inaugural cohort of Modular Fellows. Spanning execution layers, rollup infrastructure, DeFi apps, and more, Cohort One is a promising seed in the fast-emerging Celestia ecosystem.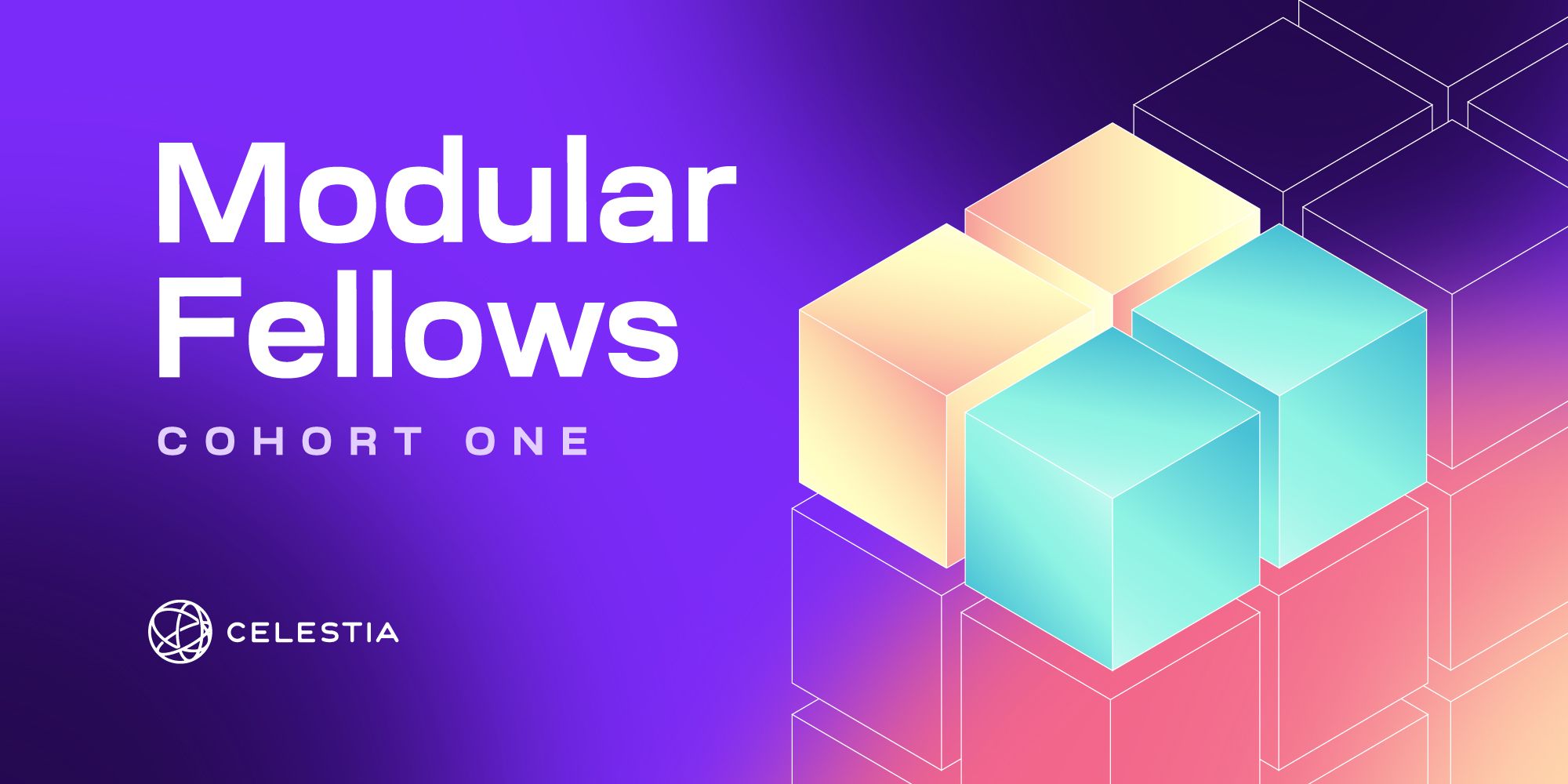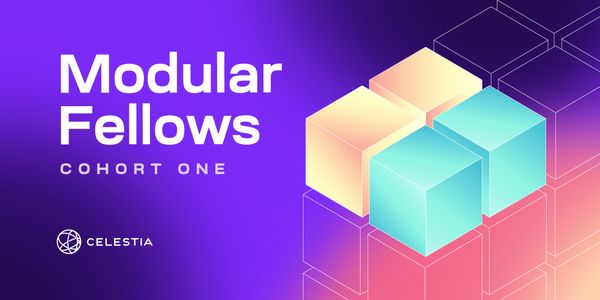 Modular blockchains will drive the next era of Web3 innovation. Less constrained, these specialized chains break the rigidity of monolithic chains into flexible components, promising unprecedented scale, security, and decentralization.
However, the modular world is largely uncharted right now. Incredible possibilities await those willing to take risks and lead with creativity.
A few months ago, we launched Modular Fellows, a new program that supports and mentors modular builders. We received over 400 applications from all over the world.
Today, we introduce the first cohort of Modular Fellows. Cohort One comprises 13 individuals and 13 teams, all who embody the spirit of modularism: originality, imagination, courage and creative thinking.
The talent and potential of these modular builders inspire us. Collectively, they make for a mighty force that accelerates the transition from monolithic to modular blockchains.
Individual Fellows of Cohort One
Alex Phan – Past Alchemy, Encode Club, Index Coop, Odyssey DAO
Amir – Independent researcher, engineer, and writer interested broadly in applied cryptography, ZK, Infra, and MEV. Previously, Amir spent time on the research and engineering team at A16Z crypto
Andres Monty – Building Scanworks, a collective building security tooling and infrastructure for the IBC ecosystem and beyond
Awtnmy – Creator of an indie games studio behind the anticipated @offgridthegame, who is exploring new ways for game devs & communities to bridge, crossover, and share on the IP of mods and user generated content
Chaerin Kim – Leading a blockchain club called EHWA-CHAIN in South Korea. Active in the Web3 developer DAO community called Boom Labs. Planning to develop a modular blockchain education platform
Corgis.xyz – Building the "Duolingo" of Web3
Diego Ferrer – Smart Contract Engineer @ Tessera
Harris Levine – A developer for 7 years, Harris is building a next-gen educational platform utilizing modular blockchains
Jack Chapman – Stanford CS Systems, 2022. Former Magna Eth Dev
Kevin He – Launched 3 EVM-compatible chains, 2 standalone zk-Rollup networks, multiple DApps with billions of TVL
Pratham Prasoon – 18-year-old high schooler who is a self taught programmer passionate about machine learning and blockchain development
Scott Sunarto – Founder of Argus Labs,  a crypto gaming skunkworks building on the bleeding edge of blockchain technology. Previously, Scott was the co-creator of Dark Forest and worked at companies like Trail of Bits and Uniswap Labs
0xmartinlof – Building extended UTXO runtime using dependent types as locks
Team Fellows of Cohort One
AltLayer - Building Ethereum-compatible tailored rollups-as-a-service for web3 applications and dApps helping them achieve scalability as and when they need it
Baking Bad – Indexing infrastructure and developer tooling
Celestia Scan – A block explorer crafted for Celestia and the ecosystem of rollups and protocols on top of it
Constellation – Constellation is building tools to help blockchain applications launch dedicated, custom rollups on the modular stack
Cosmology – Developer tools for builders in the Cosmos
DSRV – Developed WellDone wallet, which manages keys from multiple chains
Duality – Simple, flexible, and capital efficient AMM which captures MEV to return it to the LPs that create it
dYmension – Home of the RollApps
Eclipse – Customizable, modular rollups using the Solana VM
EigenVector – Building the resilient internet
Fractal - The modular rollup hub making zk-rollups effortlessly accessible to developers
Juno – A community DAO building interchain protocols and blockchains using CosmWasm
Ocelot Labs – Ocelot Labs, the Original Celo Treasury, working on the Mezcal project
Sovereign Labs – Building the Internet of Rollups, an ecosystem of scalable zk-rollups that use a shared data availability layer to allow fast and trust-minimized communication
Skip Protocol – On a mission to help blockchains achieve financial sustainability and power better user experiences by building transparent blockspace markets to connect traders and blockchains
Program Details
Throughout the three-month program, Modular Fellows will receive engineering support, mentorship, and a monthly stipend of $3,000 to build a project of their choice. The Fellows will complete a project milestone each month, culminating into a demo-day. After the program, continuing support will be available for Fellows through fundraising help and grants.
Modular Fellows will work closely with the Celestia Labs team and a group of hand-picked Modular mentors who will help solve engineering problems and provide feedback on milestones.
Empowering Modular Builders
Modular Fellows' mission is to empower modular builders with the right resources to build the future of scalable and sovereign blockchain networks. Modular blockchains mark a paradigm shift in the architecture and capability of blockchain technology. Celestia Labs is committed to supporting modular builders from all corners who seek to escape the limitations of today's monolithic chains.
Build modular. Be free.