Celestia raises $55M to launch modular blockchain network
Celestia is building a modular consensus and data network so that anyone can easily deploy their own blockchain with minimal overhead. Celestia's new modular blockchain architecture is made to supercharge the scale and rate of Web3 innovation in the next decade.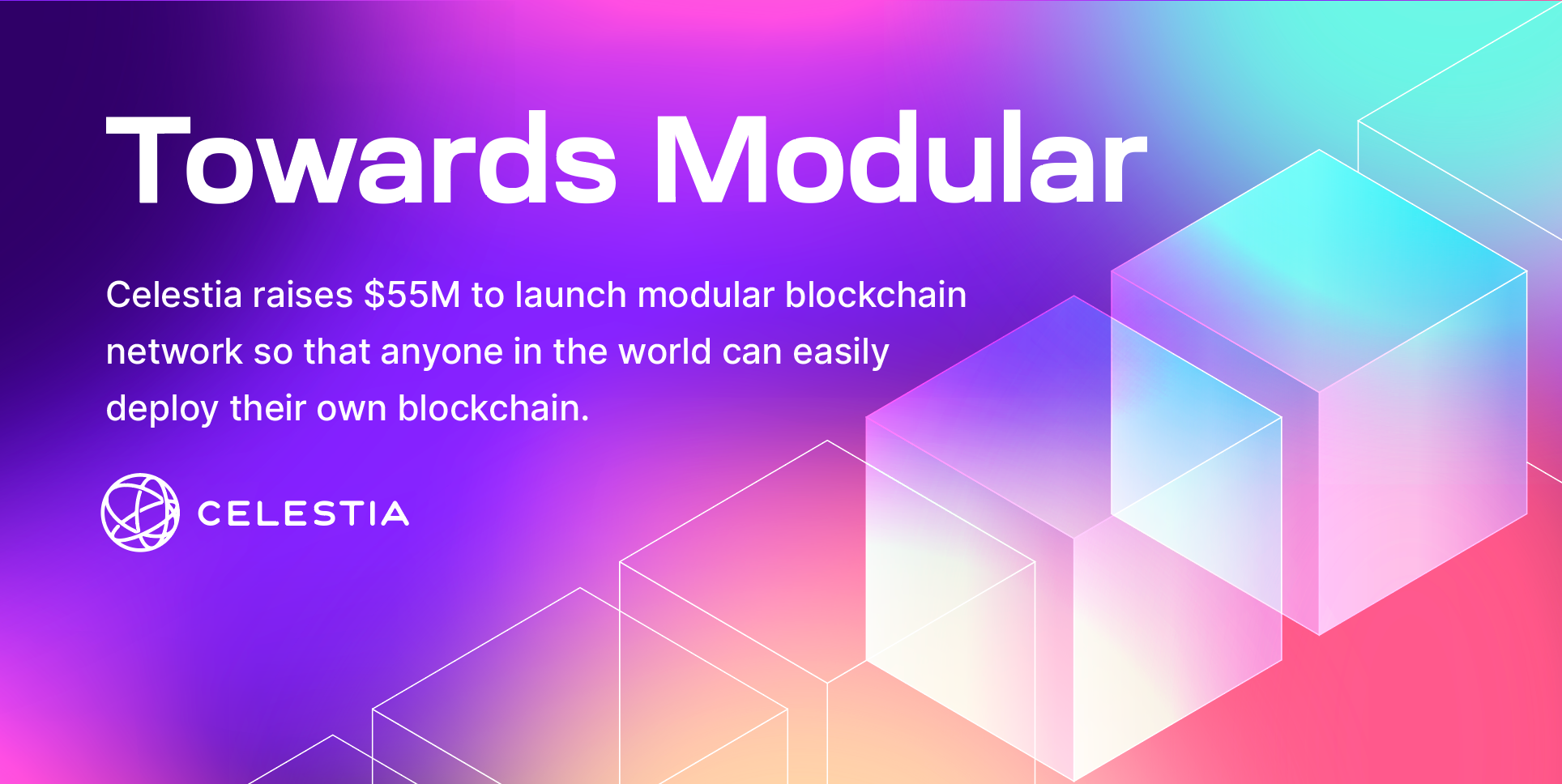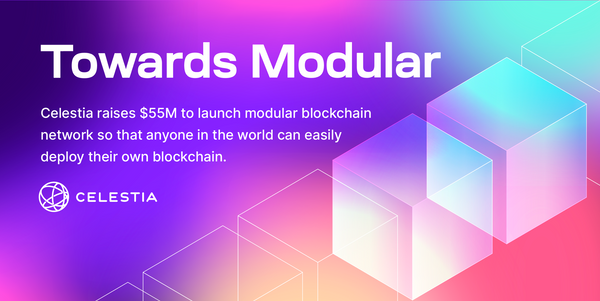 The Celestia Foundation is announcing today it has raised $55 million in support from rounds led by Bain Capital Crypto and Polychain Capital with participation from Placeholder, Galaxy, Delphi Digital, Blockchain Capital, NFX, Protocol Labs, Figment, Maven 11, Spartan Group, Jump Crypto, and select angels including Balaji Srinivasan, Eric Wall and Jutta Steiner.
Celestia introduces modular blockchain architecture to solve the challenge of deploying and scaling blockchains. These specialized chains are less constrained and break the rigidity of monolithic chains into flexible components, promising greater scale, security, and decentralization.
"Modular blockchains will define the next decade of Web3 innovation," said Mustafa Al-Bassam, co-founder of Celestia. "For the past decade, crypto has been bottlenecked by an endless loop of new monolithic L1 smart contract platforms, each racing to the bottom to sacrifice decentralization and security to provide cheaper transaction fees. Web3 cannot scale within the constraints of a monolithic framework. We envision a blockchain ecosystem with modular data availability layers and execution environments that all integrate together. We believe modular blockchains are the next generation of scalable blockchain architectures."
To date, modular blockchain projects such as Eclipse, Constellation and dYmension have chosen Celestia to be their data availability layer. Celestia's growing ecosystem is attracting projects from all corners of crypto, including rollups, rollup infrastructure, DeFi apps and more. Currently, Celestia is nurturing 26 projects in Modular Fellows, a new program that supports and mentors modular builders.
"Modular designs are unlocking rapid experimentation across the decentralized application stack," said Alex Evans, Partner at Bain Capital Crypto. "By minimizing base-layer complexity, Celestia offers cleaner abstractions for developers and greater sovereignty for communities of users. The pace of development in the Celestia community has been breathtaking, and we're excited to support this growing ecosystem."
Celestia is designed to deliver a number of key benefits for Web3 developers, including: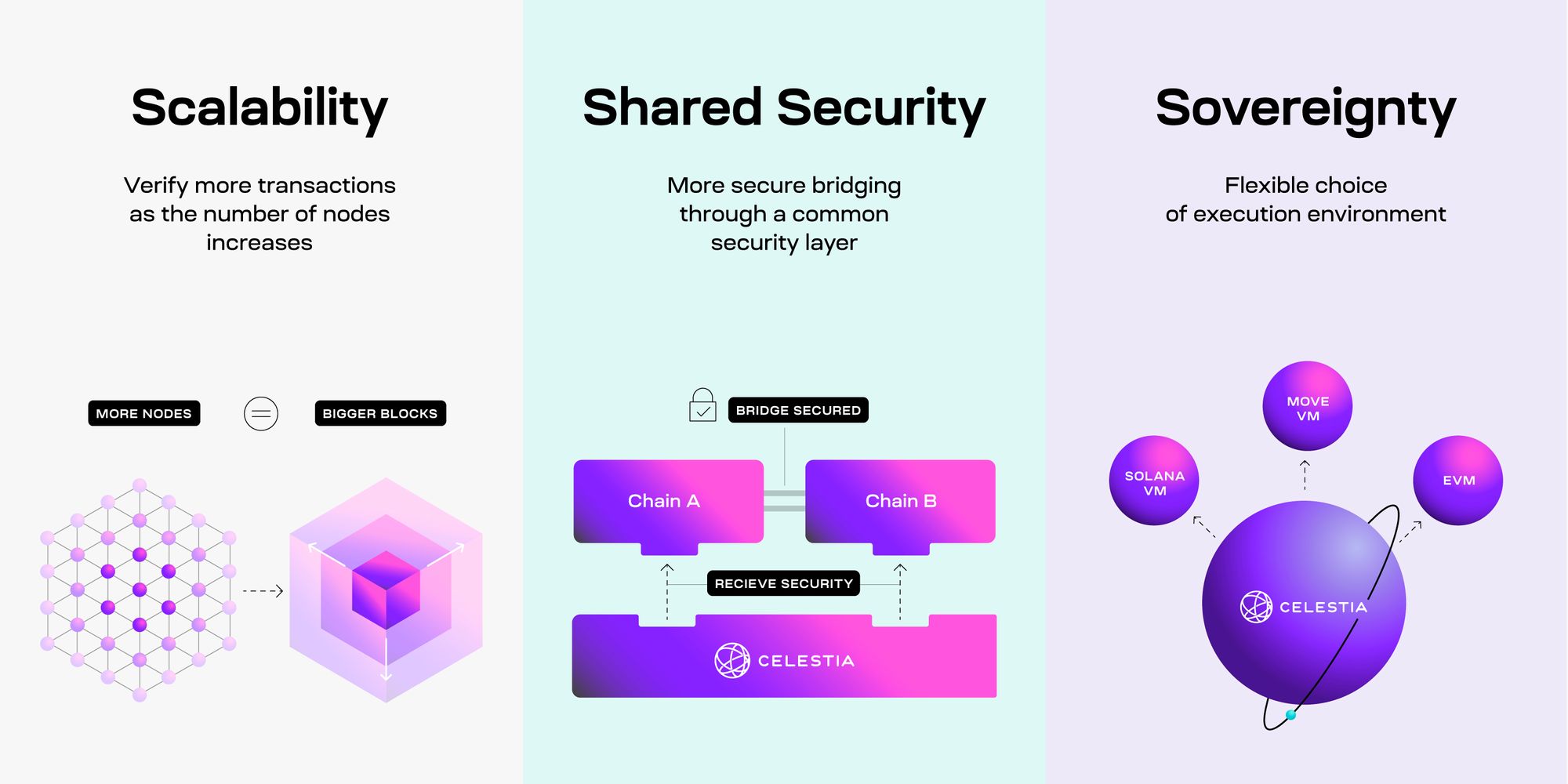 "In a moment where everyone is recognizing the importance of app-chains and rollups, Celestia can enable both, standing in the center with the holy-grail of data availability, and accelerating the modular movement," said Chris Burniske, Partner at Placeholder. "History has taught us that thin pieces, loosely joined, leads to a combined pace of innovation that tends to outstrip vertically integrated designs. However, it can take some time for such architectures to come together, and few layers are more important than a secure data layer that is thin in functionality, but hyper-applicable and scalable in its utility. Celestia is that data layer; its consensus is solely responsible for ordering transactions and guaranteeing their data availability, pushing all layers of execution and verification above it. Magically, the more nodes supporting Celestia with data availability sampling, the greater the secure data throughput of the system."
Celestia launched its testnet, Mamaki, in May of this year. Mamaki introduced a new data availability API, unlocking a powerful, yet simple primitive for building blockchains: ordered and available data. An upgrade to Mamaki is scheduled for late October 2022.

MEDIA CONTACT
Ekram Ahmed - [email protected]